Normal, dry, dehydrated skin
Objectives: A special line for normal, dry or arid skin, which tackles the problem with different solutions for a wide variety of conditions. Increases moisturising.
Results of clinical tests:
Stops the water loss with moisturizing and silky effect
Skin protection and soothing
Stimulates (in vitro) the production of anti-ageing protein
Sensitive, intolerant and reactive to internal and external aggressions, types of skin whether they are normal or oily, Sensitivity can affect all types of skin since our skin is an organ most exposed to various stimuli.
Targeted beneficial actions: Soft cleansing and exfoliating to ensure the restauration and strengthening of the skin.
Protect capillaries and offer a barrier against UV rays
Prevent and control redness, irritations and sensitivity
Recreate the general well-being of the skin and sooth unpleasant sensations
Results of clinical tests:
Diminution of inflammation ( - 97%)
Acceleration of the healing process up to
Protection against collagen degradation up to
Protection against elastin degradation up to
Colonization by harmful bacteria ( - 33%)
Dull, tired looking, grey, dry skins of all ages. Preparation and maintenance during sun exposure.
Objectives:
Global antioxidant action.

Revitalizing and brightening
Results of clinical tests:
Stop the action of radical oxygen
Protect the cell films from sun ray effect
Protect the cellular DNA from UVA and UVB radiations increasing their vitality
Increase the collagen synthesis, more than pure vit. C (ascorbic acid)
Global anti-ageing action
Oily, greasy skin, impure, mixed skins with imperfections.
Objectives:
To combat excessive secretion therefore the shiny/oily look, hyperkeratinisation with the appearance of blemishes and skin thickening, the spreading of bacteria leading to blackheads and the prevention of skin reactivity.
Cosmetic properties of Balance line: exfoliating,purifying, absorbing, seboregulating, soothing and moisturising.
Results of clinical tests:
Decrease in the activity of the enzyme alfa
Decrease in the sebum level
New Facial exfoliating Peel Line. Thanks to the innovative formula You will enjoy a flawless complexion:
Dislocations and brown spots are uniformed and diminished

Wrinkles are relaxed

Skin is revitalized, smoothed, plumped and radiant

Skin tone and texture are even out, also, works on the post acné scars and imperfections
Stimulates and regenerates effectively on 3 levels of the skin:
Epidermis: increasing keratinocytes by 32%
Dermis: increasing production of fibroblasts by 72%
Dermal-Epidermal junction (DEJ): increase of collagen by 183%
Normal, mixed, unbalanced PH
Objectives:
911 line, restores the PH balance of the skin while keeping it hydrated immediately.
It has soothing, lenitive and softening action.
Good for all skin types. Ideal basic treatment used as a preparatory step to more advanced/specific once.
Most effective way to combat early wrinkles. First signs of cutaneous aging.
Objectives:
Delay infinity is a fulfilment of a dream to delay the appearance of early wrinkles.
Rebalance cell communication for natural skin well-being.
Stimulate the production of collagen and maintain skin elasticity.
Combat the effect of free radicals.
Regenerate and improve skin texture.
Illuminate the complexion, correcting blemishes and restoring skin.
Specific moisturising and nourishment for the skin.
All mature skin types, for those wanting to look younger and invest in skin longevity, for big results.
Objectives:
Tone, plump the skin and redefine facial contour with lifting effects
Rejuvenating effect against skin aging. Skin looks younger, thicker, and facial contours are remodelled.
Improves skin texture. Helps to reactivate youth protein.
Anti-wrinkle action.
Objectives:
Exfoliation of dead skin, anti-acne, anti-black-heads, radiant beautiful looking skin of your exquisite back.
Extract of tomatoes and watercress combined with minerals delicately exfoliate and purify the skin. Applied on the body and proceeded with exfoliating massage, this treatment helps clear-out clogged pore, hydrates and nourish the skin followed by the Spa Rituals hydrating massage cream. It is a way of exfoliating and take care of an area that you cannot get to on your own.
This treatment can help heal any cracked and itching skin from dryness on the back and work on the black heads as well as acne. Just like any traditional facial, this back facial is very relaxing.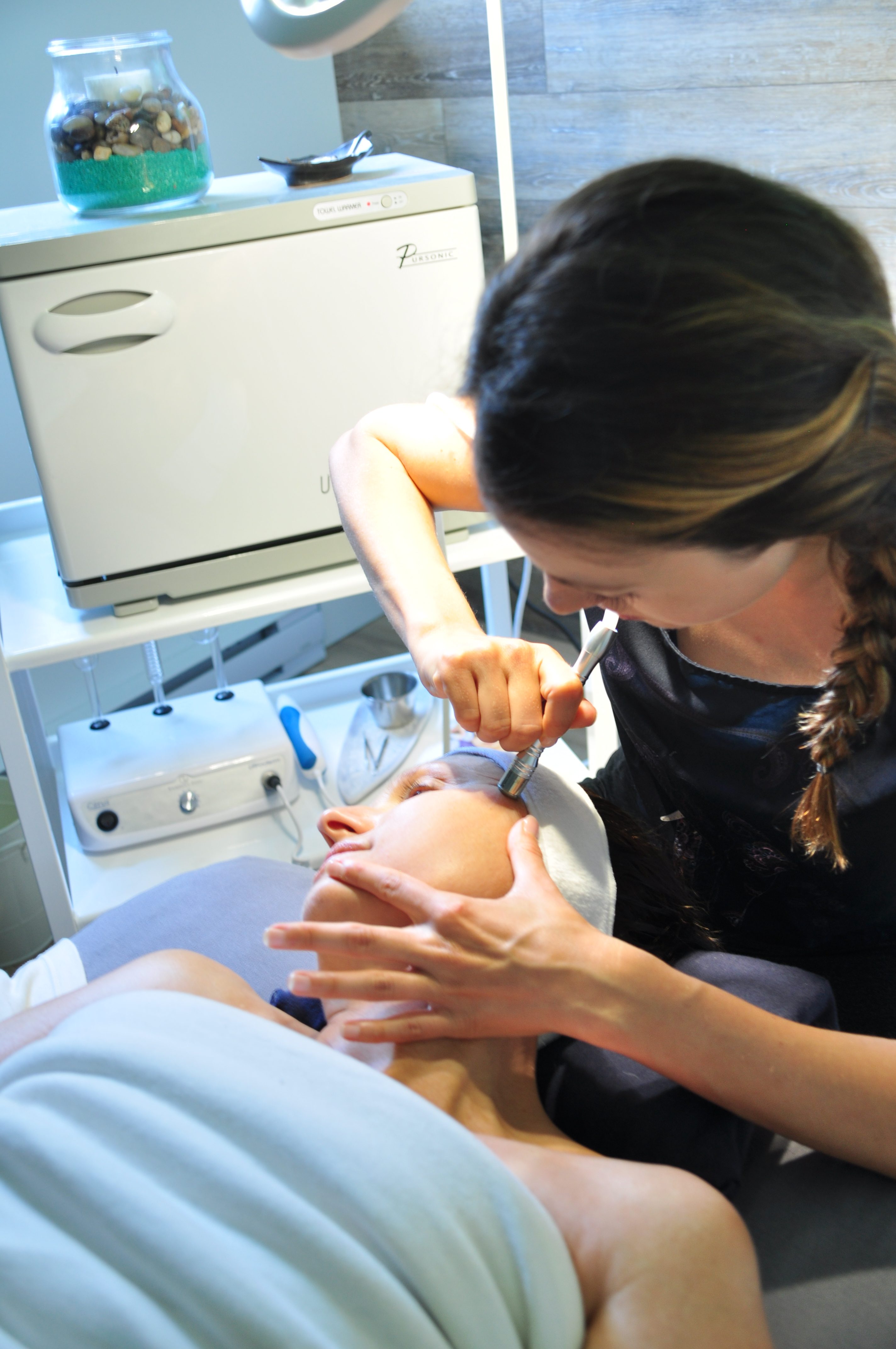 Conditions: fine lines and wrinkles, hyperpigmentation, age spots and brown spots, enlarged pores and blackheads, post acne scars, dull-looking skin complexion, uneven skin tone and texture, melasma, sun damage;
Objectives:
Elimination of dead cells
Reduce appearance of fine lines and wrinkles
Stimulation of fibroblasts which is responsible for collagen and elastin production
Skin regeneration, diminish appearance of hyperpigmented spots, even skin tone and texture, radiant looking skin.
All skin types
Objectives:
Refreshes, restores, recovers and provides a natural glow to the skin.

Working with Vagheggi Phytocosmetics
Made from fine natural active and functional ingredients, Vagheggi Phytoscometic products make a wide variety of bio beauty treatments suitable for all skin types possible.

Products which make a difference
Creators of the original and exclusive Algae Peel-Off Mask since 1979 known across the world, thanks to their many benefits which provide an intense moment of relaxation and well-being.